[Motivation]
"너랑 나랑 동의하는게 참 많아…(종교,육아,정치, 음식, 연애, 결혼, 등)"
를 영어로 어떻게 표현할까?
You and I agree on many things..라고 말할 수 있겠지만,
agree 보다 좀더 가시적인 표현이 있다

[Phrase]
see eye to eye
[Definition] To agree, especially in every respect; to concur; to get along
[Comment]
1. 관용어라 그냥 외우는게 정답이긴 하지만, 이런식으로 생각해볼 수도 있다.
너도 내가 보는 것을 보고있니? 
그렇다면 우리는 같은 것을 보고 있네? 
그말은 즉, 나는 너의 눈에서 나의 세상을 보고, 너도 나의 눈에서 너의 세상을 보는 것 있는 것처럼… We see eye to eye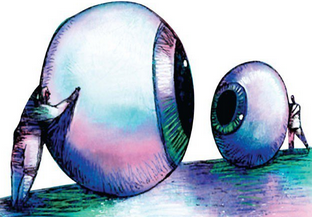 2. see eye to eye 를 목적어와 같이 쓸 때는 see eye to eye on X로 써주어야한다
we see eye to eye on X (GOOD)
we see eye to eye X  (BAD)
[From Movies & TV Shows]
Fred and Daddy never did

see eye to eye

. (I Love Lucy)
The major and I just don't

seem to see eye to eye

. (JAG 077)
I know we didn't always

see eye to eye

. I'm your mother-in-law. Those are the rules of the universe. (Resurrection)
D.A. MEESE: Would it be fair to say you don't like. Elena Sandoval, Miss Clifford? MARIE: We don't

see…eye to eye

… (Wild Things: Diamonds in the Rough)
I wouldn't presume to have a 'message' for the Prime Minister… Fortunately for the Foundation, I think we pretty much

see eye to eye

on most things. (Imaginarium of Doctor Parnassus)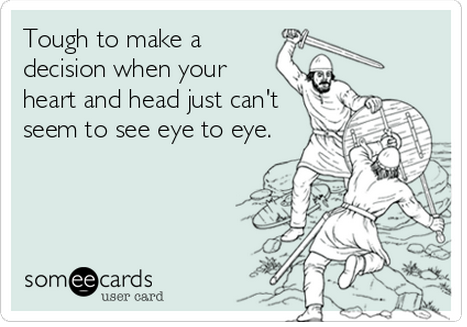 [From News]
Parents and children frequently don't

see eye to eye

on what makes a suitable partner, as studies across cultures have confirmed. (NYT)
Father and daughter haven't always

seen eye to eye

, especially when fund performance lagged under Abby's direction. (Bloomberg)
Yet he[Jacques Chirac, France's president] claimed later to

see "eye to eye

" with George Bush. (Economist)