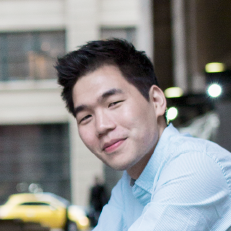 Hello!
My name is Albert, and I'm currently a PhD student at the Rabadan Lab at Department Columbia University in New York doing computational biology work on immunology and cancer.
I am passionate about computers and things you can do with them such as data analysis, communication, and automation.
I LOVE using computers effectively by using amazing tools. Among those, R, Unix, and Vim are my favorites.
They help me solve problems at hand in an empowering way whether it be biology, mastery of language, or lessons of life.
I also like sharing things I have learned with other people. One of the efforts is DailyEnglishTips, which is what I call a brain-friendly and data driven way to master English idioms for people like me whose first language is not English. You should check it out on this blog(go to DailyEnglishTips.
Outside of work, I love to play drums(jazz/rock) in a band and perform card magic tricks for family, friends, and strangers, which I have been doing for 15 years. You might enjoy my card tricks on my YouTube channel.
If you'd like to get in touch, feel free to send me an e-mail at l…@gmail.com
안녕하세요. 이우철입니다.
저는 현재 Columbia 대학교에서 Raul Rabadan 교수님 밑에서 박사과정을 하고 있습니다.
주 연구 분야는 통계 모델링을 사용하여 게놈/트렌스크립톰 분석입니다.
여러가지 툴을 이용해 흥미로운 문제를 푸는 것을 좋아합니다.
그 일환으로 Daily English Tips 를 2년간 운영하였고, 현재는 새로운 모습을 보여드리기 위해 블로그를 다시 재점검중입니다.
감사합니다.
Contact: l…@gmail.com