[Motivation]
다른 사람의 경험을 흡수하면 인생의 귀중한 시간을 아낄 수 있다.
예를들어 내가 직접 풀면 한달넘짓 걸릴 것을,  누군가가 귀뜸해준 정보나 조언이면 1시간만에 풀 수 있다.
누군가에 조언을 물어볼 때
Can I get your advice on X?
라고 말할 수도 있지만, 같은 표현을 좀 더 비주얼적으로, 그리고 다소 장난기있게  표현할 수 있는 방법이 있으니…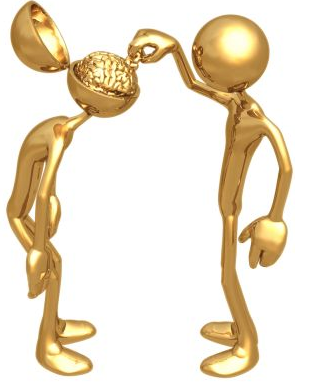 [Phrase] 
pick one's brain
[Definition] to talk with someone to find out information about something.  E

xploit someone's creativity by imitation; be an intellectual parasite

I spent the afternoon with Donna, picking her brain for ideas to use in our celebration. 
Do you mind if I pick your brains? I need some fresh ideas.
[Comment]
이 표현은 편한사람들끼리는 장난기있게 쓰지만 상대방을 잘 모르거나  formal한 자리에서는 가급적 안쓰는 것이 좋다. 왜냐하면 "상대방의 두뇌(brain)를 손가락으로 쇽쇽 파먹는(pick) 이미지" 를 연상시키기 때문이다.
이런 negative connotation 때문인지, 나를 잘 모르는 사람이 내가 가진 정보를 탐낼 때 그것을 비판하는 용도로 쓰이기도 한다.
How To Say No To People Who Want To Pick Your Brain
[From Movies & TV Shows]
You know, I'd love to sit down with you and just

pick your brain

, if you'd ever be willing. (American Beauty)
You know, we don't know if this person had it in for you or had it in for the agency, so can I just

pick your brain

a little bit? (Nothing But The Truth)
Mind if i stay and

pick Katherine's big brain

? (Alpha House)
You wanna

pick my brain

, right? Right. I'm gonna let you. (Car Wash)
TOM: You make me nervous. Anyway if I can

pick your brain. JANE: (grimaces at "pick your brain

.") I can't help you, sorry.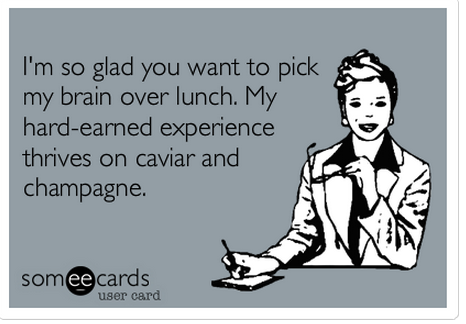 caviar: 캐비어(철갑상어 알을 소금에 절인 식품 ). 
[From News]
Wilson said he'll continue to communicate with Revis regularly and doesn't feel any pressure in replacing him. "I always

pick that guy's brain

," Wilson told reporters. (Bloomberg)
Today, we review the array of apps that send short-lived texts and tell you how to use your smartphone to

pick your car's brain

. (NYT)
"Find a dealer you enjoy talking to and

pick his or her brain

," says Lally.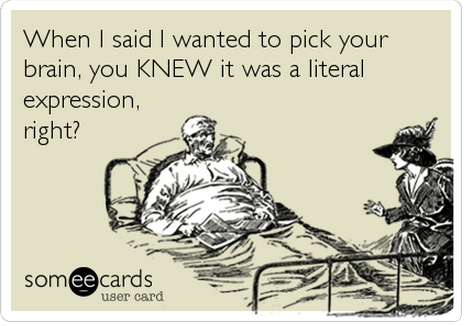 [From Twitter]
I'm like, reasonably whizzy on Google Analytics/Wordpress CMS. If you're super whizzy, can you tweet me so I can

pick your brain

please?

pick my brain

. ask me about my views on something. dig deeper than the obvious. lets make each other think. show me a different perspective.
Dont ask to

pick my brain

unless I can pick your pockets…