[Motivation]
맥주 한잔, 아님 두잔 마실까? 를 영어로 어떻게 할까?
Let's grab a couple of beers! 라고 할수 있겠다.
그런데 이문장은 엄밀히 말해서 "2잔 이상 마시자" 의미를 내포하고있다.
엄밀히 말해서 "한잔마시자, 그런데 두잔도 마셔도 되고"라는 의미를 표현하려면 어떻게 할까?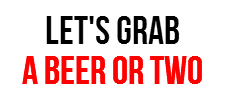 [Phrase]
A something or two: 하나 또는 둘 
**저런 구조를 가진 표현중 "a thing or two"는 특별한 의미를 가지고 있다.
A thing or two: practical skills and knowledge learnt through experience
My uncle grew up on a farm and knows a thing or two about looking after animals.
She thinks she knows everything about raising children, but I could tell her a thing or two.